The sound of one hand typing.
The Half Keyboard allows you to type with just one hand, leaving your other hand free for other things.
With the Half Keyboard under one hand and your mouse, trackball, or stylus in the other, there's no need to go back and forth between your input devices when working on CAD, desktop publishing, animation, image manipulation, spreadsheets, or even gaming.


Available for PC (USB or PS/2) and Mac (USB)..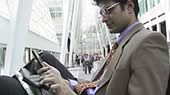 16