Vision
The need for communication within a mobile lifestyle has long been the dream of many. During his studies with the University of Toronto's Input Research Group, Edgar Matias developed and patented the Half Keyboard™ technology to help shrink the primary data input interface used on mobile computers.
The vision of the Matias Corporation is to provide rapid and accurate data input capability to a host of readily available devices, transforming them into mobile computing appliances. The list of possible applications is limited only by our imagination and present mobile computing technology.
Among the first applications now ready for this leading edge technology are:
the miniaturization of word processing from laptop to palmtop size, on platforms by palmOne™ and Handspring™


the transformation of the common palmtop scheduler into a full-fledged palmtop computer, supporting both pen and keyboard input


the metamorphosis of the cellular telephone into an Internet appliance capable of surfing the net and responding at length to e-mails
Over time, the vision is to replace every keyboard in the world with a Matias Half Keyboard.
Market Need
Word processing has been and will continue to be the "killer application" for the personal computer — 80% of ALL personal computer usage is text entry and manipulation. Not everybody uses spreadsheets, not everyone needs a database, but at some point, we all need to write something. Text input devices, be they traditional keyboards or touch screens, have tremendous limitations. In fast-paced mobile and often wireless environments, traditional text entry methods are far too slow and thus, this killer app is not available to users of mobile computers. Worldwide mobile computing is one of the fastest growing markets in the technological world. Poorly equipped handhelds presently hold Cdn$2.4 billion (US$1.6 billion) of this possible Cdn$22 billion marketplace (less than 11%). The market is in need of a high-speed portable text entry device or appliance to extend the reach of the home-based personal computer.
The Matias Solution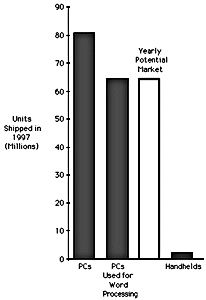 Matias has developed a patented Half Keyboard technology that combines the time-proven convenience and comfort of the traditional keyboard with true portability, creating a whole new world of portable and soon to be wireless palmtop computing appliances. Our initial R&D was conducted in partnership with the University of Toronto. The technology allows users to type using only one hand. Since only half of a standard keyboard is needed, the other half may be dispensed with, leaving a keyboard that is compact enough for use in handheld computers, yet which still permits fast typing using people's existing typing skills — no formal retraining is required. Matias has been selling a software version of this technology into the handicap marketplace for several years with tremendous results.
After its success has been established in the marketplace, the technology can be licenced to larger companies for use in their products.
Market Potential
Using current desktop sales as a basis, a handheld computer capable of word processing has a worldwide total potential of approximately Cdn$90 billion ($22 billion annually). This compares with the current handheld market of Cdn$2.4 billion annually.
If the Half Keyboard technology becomes ubiquitous and turns into a standard feature on all computers, the total world market could be as large as Cdn$100 to $150 billion ($25 to $38 billion annually).


Management
Edgar Matias is President and the inventor of the Half Keyboard. He is also a member of the University of Toronto's Input Research Group, a multi-disciplinary group which studies computer input devices. He has over 15 years of experience in software development, user interface design, and programming, on projects ranging from low-level operating system extension utilities to high-level online groupware database applications (in languages ranging from Assembler to Perl). He also has a working knowledge of industrial design, digital image manipulation, and website design.
Steve McGowan, B.Comm., M.Sc., is Vice President of Finance, and responsible for financial and administrative matters. As well as being one of the founders of Matias Corporation, he brings years of experience managing finance, information technology, and administrative functions within Ontario Hydro. He graduated with distinction from the University of Toronto (Trinity College) earning a double Specialist in Commerce & Finance and Economics. He did his postgraduate work at the London School of Economics (specializing in Monetary Economics) and graduated in the top quartile of his class. He is a member of the International Right of Way Association, the Canadian Property Tax Association, and a past President of the Trinity College Investment Fund.
Vesna Vojnic is Marketing Manager, and is responsible for product marketing and sales, PR, and promotion. Thanks to her efforts, Matias products have been featured in Macworld magazine, Popular Science, Mobile Computing, the New York Times, Wired News, ZDNet Japan, and also on CNN, TechTV, CityTV, and CTV. She has a broad business background, which includes communications and human resources positions at Montreal Trust Company. She did her undergraduate work at the University of Toronto (in Labour Management Relations) and received her business marketing training at George Brown College.
Carlos Gouveia is Branding and Media Specialist for Matias Corporation. He is responsible for brand creation in all its facets, ranging from the company's website and rich media content, to consumer packaging, advertising, and promotional materials. He has a B.A. in Creative Writing from York University, and studied Audio Production & Engineering at Harris Institute for the Arts (Toronto). He has worked at studios around the globe, including Real World (Peter Gabriel's studio in the UK), Studio Bombazine (Portugal), and (in Toronto) Metalworks, Wellesley Sound, and the Gas Station. His work experience also includes live sound in clubs and festivals, corporate audio-visual services, and performing as a guitarist with Toronto bands Alvy and Mrs. Torrance.


Advisors
Jef Raskin is the man Forbes called "The Real Father of the Macintosh." His long list of accomplishments include: the original design and specification of the revolutionary Apple Macintosh computer, the Apple style of user's manuals, and various user interface paradigms in use on virtually all modern computers. Anyone using a computer today is using his ideas. As Apple's 31st employee, his effect on the early success of the company was widespread, having served as Manager of Advanced Systems (Macintosh Project), Manager of Applications Software, and Manager of Publications and New Product Review. He coined the term "information appliance" over 20 years ago, and his company, Information Appliance Inc., was selling them as early as the mid-1980s.
Scott MacKenzie is an Associate Professor in the Department of Mathematics and Statistics and a graduate faculty member in the Department of Computer Science at York University. He is the author of two books on computer engineering and has designed a variety of hardware products, including a 68000-based single-board computer, manufactured and marketed by URDA, Inc. (Pittsburgh, PA). His research interests include: performance measurement, prediction, and modelling for human-computer interaction; pen-based computing; and the design and empirical testing of input devices and interaction techniques for advanced computing. His work was recently incorporated into an ISO standard for evaluating computer pointing devices.



Home | Products | Ordering | Support | How It Works | Users | Advantages
News & Events | Press Kit | Research | Investor | Site Map | Contact